International Institute of Management > Board of Advisors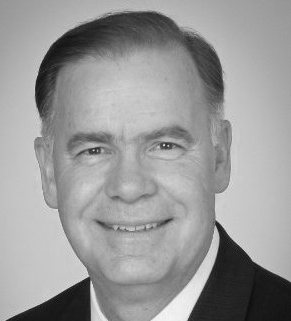 Bradley Holcomb
Holcomb is the 84th recipient of the J. Shipman Gold Medal Award, receiving that award in 2015. The award is presented professionals whose unselfish, sincere and persistent efforts have aided the advancement of the supply management field. It is the highest honor awarded by the Institute for Supply Management (ISM). ISM Manufacturing Index is one of the key national indicators used by the US Federal Reserve economists and Wall Street Investors to gauge and forecast business conditions.

With a career spanning over 35 years and six companies, Holcomb was honored as a visionary leader, successful driver of change, but above all else, a role model to supply management professionals. Brad Holcomb chaired the ISM Manufacturing Business Survey Committee from 2011 to 2017. In that role, he was responsible for compiling, writing, and releasing the ISM Manufacturing Report on Business , based on the survey results of approximately 350 supply management professionals across eighteen industry sectors. Those monthly reports are released on the first business day of each month and use the PMI Index as the key manufacturing economic measure.
Holcomb has held executive procurement and supply management positions at Dean Foods Company, Royal Group Technologies, Waste Management, American Precision Industries, and Praxair. His mission has been to build high-performance teams and broaden the role of procurement to substantially reduce costs and create a competitive advantage.
In his last role as chief procurement officer, Holcomb was a senior vice president at Dean Foods, where he transformed and broadened the role of procurement and reduced costs to help fund innovation and growth. He executed a broad strategic sourcing program, drove simplification and standardization, and streamlined the supply base, resulting in a measurable competitive cost advantage. Dean Foods, headquartered in Dallas, is one of the nation's leading food and beverage companies, producing a full line of dairy and soy products, with more than 100 plants in the United States and more than 26,000 employees.
Prior to Dean Foods, Holcomb joined a new management team at Royal Group Technologies Limited as senior vice president of global materials and supply. He held P&L responsibilities for Royal's chemical plants in North America and operations in China, and managed the enterprise project management office and the procurement and supply management function. A successful transformation effort resulted in the sale of Royal to Georgia Gulf at a substantial premium over Royal's stock trading price. Royal, headquartered in Toronto, is a leading producer of resin-based building materials, with manufacturing plants throughout the United States, Canada, and China.
Before joining Royal, Holcomb was the vice president and chief procurement officer for Waste Management Inc. Over the course of five years, he helped achieve a major corporate turnaround by building a high-performance procurement team and delivering world-class results. These results were documented in a 2005 cover story in Purchasing magazine, and he also received the Chairman's Award for his team's contributions. Waste Management is North America's largest waste disposal company, headquartered in Houston.
Holcomb's career began at Eastman Kodak Company, where he held numerous management and leadership positions, including (1) general manager, digital products manufacturing, (2) general manager, international digital products marketing and sales, (3) director, corporate commercial affairs, and (4) director, supplier relationship management. His final assignment at Kodak was to re-engineer global procurement to leverage the size and scope of the entire company. The success of this effort laid the foundation for the next twenty years of Holcomb's career, as he was next recruited to Praxair as vice president and chief procurement officer, and later to American Precision Industries in the same role.
Holcomb holds a bachelor's degree in engineering science and a master's in industrial engineering from Arizona State University, and a master's in chemical engineering from the University of Rochester. He is a member of the Institute for Supply Management (ISM), a Certified Professional in Supply Management (CPSM ), and a Certified Professional in Supplier Diversity (CPSD ). He has served on the board of directors of ISM's CAPS Research and of the Dallas/Fort Worth Minority Supplier Development Council, and is past chairman of the Houston Minority Business Council.
Holcomb has written numerous articles on procurement trends and leadership opportunities and has lectured at Arizona State University, Michigan State University, and Rochester Institute of Technology.
He is also an avid, lifelong photographer and enjoys sharing his work through Bradley Holcomb Photography.
Contact Info:
Contact information are kept private to prevent spam and unsolicited emails. To contact the associate, please use contact us form.