International Institute of Management >Board of Advisors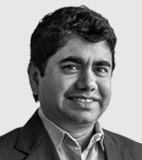 Neil Araujo

Board of Advisors- Technology Management Best Practices
Neil Araujo is the CEO of iManage (formerly, HP Autonomy's Enterprise Content Management portfolio. He has global responsibility for driving the strategy and execution for HP Autonomy's Policy-driven Information Management, Records Management, Legal Content Management, Business Process Management, and Document Management solutions. iManage is the gold standard for legal document management in the legal industry
Prior to HP Autonomy, Araujo was one of the original founders of iManage, Inc., where he was a key member of the team that successfully built the company from a start-up to a profitable and growing publicly traded software company that went IPO in four years, before the company was acquired by Interwoven in 2004. At Interwoven, Araujo played a key role in driving the strategy and growing the professional services division's market share in the legal market from 40% to 75%. He also played an instrumental role in expanding the business into new adjacent vertical markets and geographies, which doubled the division's revenue in three years.
Araujo earned his MS in Computer Science from the University of Illinois in Chicago and his MBA from Northwestern University's Kellogg Graduate School of Management.
Achievements/Awards:
Ranked Global Tech Leaders Top 100 - By UK based City Tech Magazine
Co-founder of iManage Inc. an enterprise content management solution company and the gold standard in legal industry. iManage was acquired by Interwoven (IWOV) a publicly traded company on NASDAQ.
Experience:
Europe. India. USA. 20 years+
Industries:
IT. Services. Legal. Government. Retail and Distribution
Employers:
iManage, Inc. (Public company acquired by Interwoven)
Interwoven, VP Marketing and Product Management
Education/Certifications:
MBA, Kellogg School of Management, USA
M.S., Northwestern University, USA
B.Tech. National Institute of Technology (NIT) India
Organizations:
Publications:
Integrate Compliance with Risk Management
Sarbanes Oxley - A Complete Project-Centric Solution for Compliance and Risk Mitigation
Professional Interests:
Contact Info:
Contact information are kept private to prevent spam and unsolicited emails. To contact the associate, please use contact us form